Why Coworking is need of the Hour?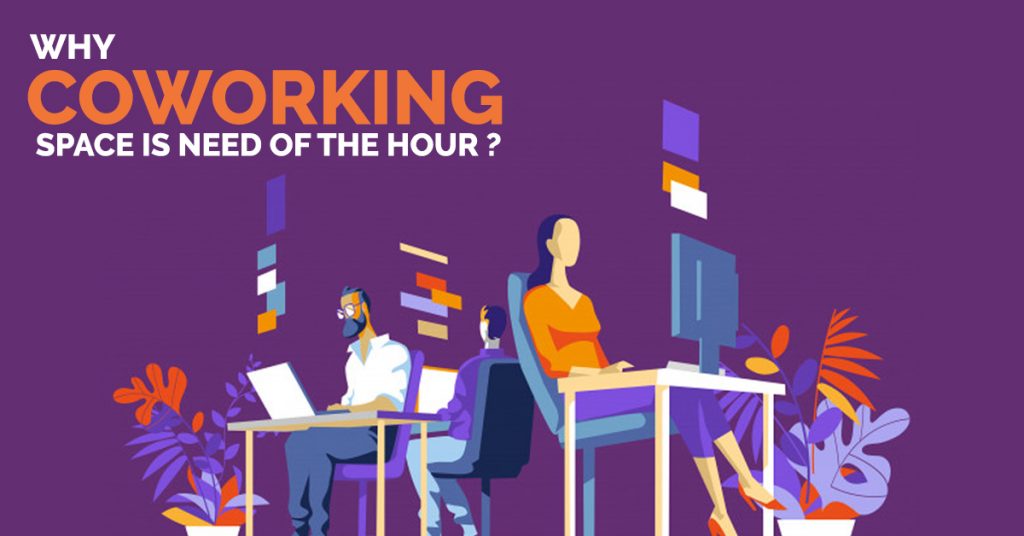 In the hard time of the pandemic, the entire world is impacted severely. Companies are cost-cutting, shrinking growth plans, and focusing to conserve capital. New businesses are laying off employees because they are not immune to this critical situation.
Many start-ups which raised investments on promising rapid growth are on verge of shutting down.
What is Coworking Space?
Coworking is a place where workers of different companies share an office space. In short, the people who are self-employed or working for a particular company come to shared office space and work.
Even if recession knocks hard, not only start-ups or freelancers but also well-developed companies have to adopt coworking spaces to decrease the cost of operation and emphasize exploring distributed workplaces for their employees rather than laying off their employees.
Coworking has surely seen a dip in footfall during lockdown, but forecasting the scenario which will be post lockdown, many companies will now think about distributive work model for employees as it will take a little long time to cope-up with the trauma of pandemic, which will result as increase in the demand of coworking spaces.
Distributive work model enables employees to work from remote locations which decreases the time & cost spent on travelling.
Companies are planning to cut extra costs to cope up with losses due to pandemic effectively and efficiently. Coworking spaces are need of the hour since they decrease the operational cost and also take over the burden of managing the operations, wherein, the companies can primarily focus on the business at lesser cost and better facilities. Also, coworking spaces with hubs in different locations give the advantage of working remotely as per the choice of the co-worker. CO-OFFIZ has its hubs in 6 prime business locations – Preet Vihar, Janakpuri, NSP, Gurugram Sec-58, Noida Sec-3, and Noida Sec-63. It also allows co-workers to use facilities at any of the hubs which makes it very flexible and convenient to co-workers.
A lot of entrepreneurs travel for meetings and conferences worldwide which will be halted due to fear of COVID-19. In such circumstances, the best place for meetings virtually would be booking a meeting or conference room at a co-working space. CO-OFFIZ provides theme-based fully equipped meeting & conference room facilities on an hourly basis.
Cost analysis of 100 Seater office in Gurgaon
Area
# Seats
Seat Price
Cost

DLF, Cyber City

100

15,000

15,00,000

Golf Course Road

100

14,000

14,00,000

MG Road

100

13,000

13,00,000

CO-OFFIZ, Sec-58

100

9,000

9,00,000
A graph shows, how the location can reduce the operational expense on a monthly basis.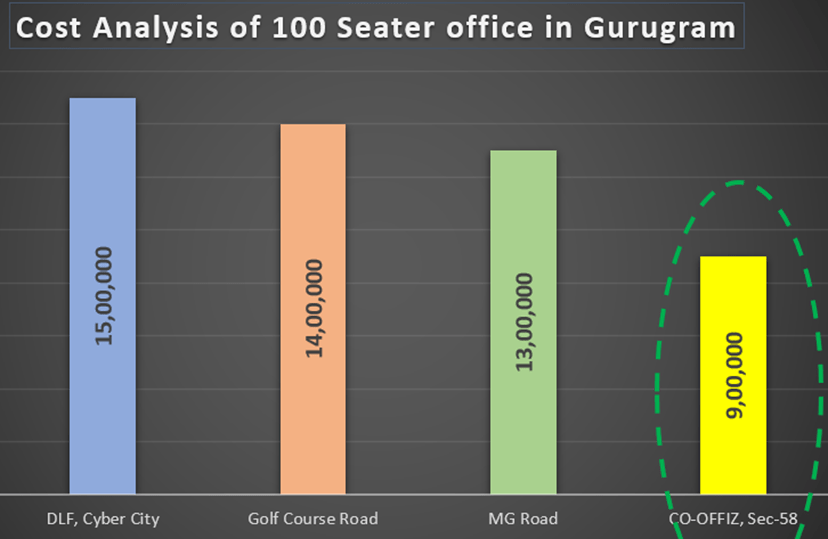 People need flexibility and choice in how and where they want to work from and there is no cost saving and hygienic option than opting for a co-working space. Rather, this is an opportunity for co-working spaces to show how they can offer new solutions during the hour of crisis and make economy more resistant to such circumstances.
CO-OFFIZ is playing a significant role by helping organisations in cost cutting via reducing operational cost of the company on monthly & yearly basis. CO-OFFIZ membership includes almost all operational expenses such as Electricity, AC, Internet, Tea/Coffee, etc.
The above case study depicts how CO-OFFIZ can help companies cut a huge percentage of operation costs.
Book your seats now!